12 décembre 2006
Is this blog alive??
For the moment I can continue to blog on kstuff.canalblog.com because of my activities on AVING.NET (I'm contributing to the French Branch) ant my blog sidpadz.canalblog.com (in french).
But if you are interrsted and motivated enough to continue this blog contact me.
I'm also looking for english motivated publisher on generationmp3.com (the biggest french site dealing with MP3 players) contact me at : sidneyblog AT gmail . com ( AT = @).
C U.
Sid.
...
05 septembre 2006
Iriver's new dictionnary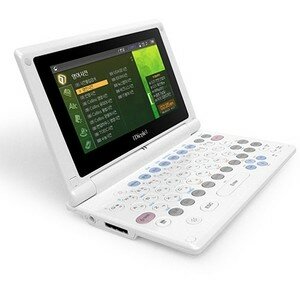 Iriver ships a new electronic dictionnary. D25 comes after D10, D20. It features a 4.3" Screen, a radio tuner, mp3 playback, a TextToSpeach function and several languages (korean, english, chinese and japanese). It includes a 1.3 GB flash memory and a 16 hours autonomy. It will cost around 378000 Won (311€).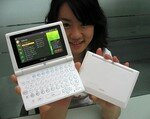 09 juillet 2006
CMtech shipps it's new PMP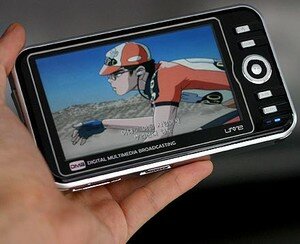 Previewed on pmpinside the CD-1000 by CMTech embeded a DMB tuner, a 4.3" screen (which features 480x272 pixels and 16M colors), a SD slot (4Go maximum). It supports MP3/WMA, JPEG/BMP and MPEG4/WMV9/DIVX/XVID file ormat. It's powered by a 3,7V battery. But it doesn't seem having an internal memory.
03 juillet 2006
WiBro is taking over South Korea :
South Korea is shiping its new wireless network called WiBro, deriving from WiMax. For the moment it is only avilable in Seoul, but it will soon be extended to the other main cities and finaly to the whole country. This technology is really supported by the different providers... After tests made in the beginning of the year, it can be said that one antenna as a one kilometer raduis coverage and a hotspot a 50 meters one. Connection is still avilable in moving (until 120Km/h). Downloading bitrate goes up to 2Mb and uploading one is 1Mb but a Samsung exclusive PCMCIA card which costs 240€ enable you to acces this network. However mobile devices WiBro compatible will be soon avilable (PDA, DAP, laptop,...). KT, one of the biggest Korean internet provider wich designed this protocol with SK telecom leads a partnership between 21 providers world wide.
02 juillet 2006
iUbi blue 2500, the ultime korean PMP !
First of all, the 2500 series has probably the best-screen of the korean PMP market : 4.3 inch TFT LCD, fast response, 480x272 pixel resolution. Then its a very light (260g) and slim device (1,9cm).
As far as specifiactions are concerned, it supports a very wide range of video (MPEG1,2,4, DivX 3.X, DivX 4.X, DivX 5.X, Xvid, WMV9, H.264, AVI, OGM, WMV 7,8, MOV, Real Video) and audio codec (MP3, WMA, WAV, OGG, L- Pcm) and picture file extensions (JPEG, BMP, GIF, TIFF). It includes an AV MPEG 4 internal encoder which enable it to record up to 7 hours of video streams directly from a VHS, DVD or TV. On the top of that, the iUbi Blue feature the OTG USB support which allowing to uploading media contents on the player directly from usb devices and Bluetooth wireless system.
Notably-affordable (250 £ / 360 €) the iUbi2500 is now avilable in UK.
30 juin 2006
A new PMP from i-Station
i-Station is the brande of digital Digital Cube inc. PMP, a firm specialized in the PMP systems developement. The company now introduce the V43 (new version of its previous "T43") a PMP with a DMB tuner built-in.

25 juin 2006
Odd-I is prolific !
Odd-I is definetly prolific. After shipping its large screen PMP, it indroduces the P15DN. This very complete stuff includes usual audio and video features , but also TV (DMB), GPS and it supports MS Word, Excel, PowerPoint, PDF, HWP, bmp, bmv, emf, gif, jpeg, jpg, png, tiff, tif, wbmp, wmf files.
[TKT] The newest Samsung phones
(source : The Korean Times)
Newest Samsung phones: Models demonstrate up-to-date cell phones of Samsung Electronics during the CommunicAsia 2006 in Singapore, Monday. From left are 9.9-millimeter-thick clamshell phone (SGH-D830), European-bound terrestrial digital multimedia broadcasting phone (SGH-P900), slim smart phone (SGH-i320) and premium slim slider (SGH-E900).

17 juin 2006
Odd-i introduce the "large screen" PMP
Introduced during the CeBit exhibition, the odd-i N700D, is a new large PMP (7''). It includes DMB/FM tuner, a SD card slot, two 2mW speakers. This new stuff include a unique concept : the "Picture-in-Navigation". A digicam on the back of the device let watch a movie driving in keeping an eye on the road !
This stuff is supporting MPEG4 SP, XVID et Divx 3.x/4.x/5.x (until 720×480 pix.), WMV7 (320×240, 30fps), and also WMV8/9 (320×240, 20fps). and SMI.
Avilable in Korea on the 21 june...

12 juin 2006
Korean "fashion mp3 players"
Whereas PMPs are taking over the electronics consumer market in
Asia, Koreans DAP are becaming more and more wearable as jewels. Iriver
started in shipping the N series. And now Cowon fallows it's path
introducing AUDIO T2, a fashion mp3 player wearable round the neck.